Date of airing : August 15 2012
Time of airing : 9:55 pm (korean time)Genre: Fantasy Melodrama
Writer : 정윤정 Jung Yoon Jung
PD : 김상호 Kim Sang Ho
Eps: 16
Main Cast : Lee Jun Ki, Shin Min Ah
Supporting Cast : Yeon Woo Jin, Hwang Bora, Han Jung Soo, Yoo Seung Ho, Kwon Oh Joong, Park Jun Gyu,
Kim Yong Gun, Kang Moon Young, Kim Gwang Gyu
'The relationship that began as fate, a truth greater than imagination,' foreshadows a forbidden, mysterious relationship between a ghost and human.

Story : A horror fusion sageuk surrounding a wrongful death against the backdrop of the Joseon Dynasty basing on the old korean folk tale "阿娘" Arang. New appointed magistrate "Lee Eun Oh" (Lee Jun Ki) who has the ability to see ghosts, meets with a female ghost "Arang" (Shin Min Ah) who had died of a wrongful death due to her wicked nanny's conspiracy
Character descriptions:
Joo-wal is the adopted son of an influential nobleman in town; he's elegant, cool, and exacting and causes a fair share of the villages ladies' hearts to flutter.
A man who doggedly pursues clues about his mother's disappearance; he feels nothing in the world matters aside from that. His character as cynical and brusque on the outside, though (naturally) much warmer on the inside: "It seems like he treats people coldly, but he feels a lot of sorrow and sympathy for them; 'Eun-oh' is a three-dimensional character. Lee said, At first I was drawn to him because he was a prickly type of role I haven't played before, but as I delve more into the drama, I find that he's someone I can show a lot of different sides to"

Shin Mina: Arang(ghost)
Murdered Arang seeking justice for her death.Shin Mina described her character:
Arang, as a plucky, bright personality, in a departure from the typical ghost character. But I don't expect this kind of plucky to hew to the usual heroine types, who are often Candys (poor but hardworking and optimistic): "She's cynical and coarse and reckless, and strong-headed to boot, but not in a hateful way; she's a lovable character. She doesn't remember who she was in her life, and struggles to get by in this world, desperately wanting to know the reason for her death." Ah, so the plot just got a hair more interesting—the ghost doesn't
know
why she's hanging around, so it's not strictly revenge she wants, but the truth.
cr: dramabeans
Second lead
Yeon Woo Jin
plays a villainous government official and Lee Jun Ki's opponent
Kwang Oh Joong -as Jun Ki's servant
Hwang Bora
as Mina's shaman
Yoo Seung Ho(Great Jade Emperor) and Park Jun Gyu (King of Underworld)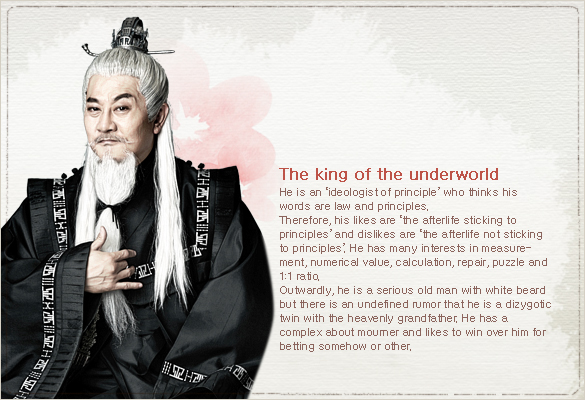 More pictures of Arang. I'm anticipating for this drama..:)
teaser is out:
..
thanks to myphim